Fontanasalsa
Azienda agricola: a business producing an agricultural commodity
Frantoio: an olive oil production facility
Baglio: an Arab-style farmhouse built around a central courtyard
Azienda Fontanasalsa is accurately described as each of these. Built around a beautifully, if unevenly, paved courtyard under the shade of a 200 year-old vine, surrounded by a land harboring untold riches of history, legends and ancient remains, it also offers hospitality in the form of a full-board inn and plenty of gracious space for work and contemplation. Fontanasalsa provided the perfect combination of retreat and inspiration for our poetic endeavours.
The Dottoressa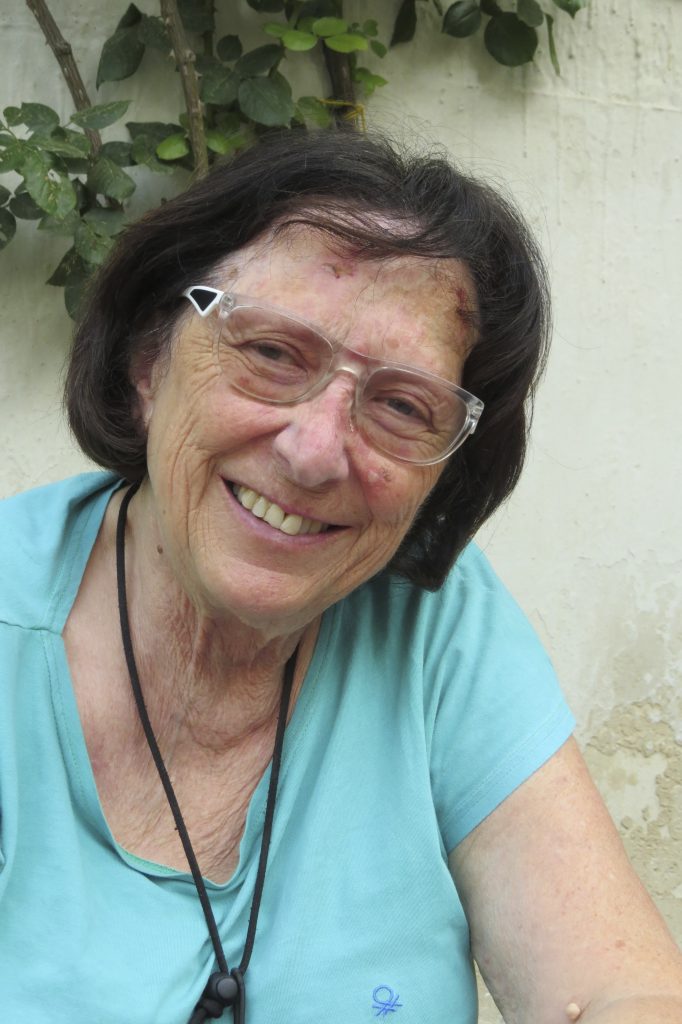 Maria Caterina Burgarella, who opened her ancestral baglio and olive farm to us: "I miei ospiti sono i miei amici." ("My guests are my friends.")
AD MUSAM
Umbram tam gelidam da, Marica Musa, poetis
Ut fervor nobis non rumpat splendidus artus
Scribendi, ut rapido saltantes carmina versu
Dulcia pangamus, terrentibus absque lacunis.
FOR MARICA
Marica, Muse of this abundant place
Grant us this week your hospitable shade,
So that our verse can be composed with grace,
Not overheated by the effort made.
We danced at night; our poems dance by day
Avoiding fearful gaps: or so we say.
Musa Marica chiediam umilmente
di stare un po' protetti sotto l'ombra
del dolce baglio tuo, ché 'l sol fervente
le membra dei poeti non ingombra
mentre che sopra a noi danza la vigna
degli avi tuoi; così nella penombra
la musa possa a noi spirar benigna
per te, ballando in cerchio, antichi metri
senza lacuna, che ride maligna!
Latin composed by David Money ex tempore in class (with the assistance of the group); English version by David Money; Italian translation by Kristen Hook. N.B. She is addressed formally as "dottoressa," but her friends know her as "Marica."
Michelangelo
Michelangelo Transfer, an indispensable resource in the Trapani area and indeed all over Sicily and beyond. No matter what the transportation challenge, Michelangelo met us with his brilliant and infectious smile, one van or four, an endless supply of fun facts and hidden treasures on and off the beaten track. Into the heart of the historic center of Palermo on the day of the festival of Santa Rosalia? Why not?
Irene
Irene Gambino, singer, guitarist and folklorist has dedicated her career to researching and performing the traditional songs that have accompanied the daily lives of the people of Sicily for centuries. She is also a friend of dottoressa Burgarella, and because of this relationship, Inter Versiculos was the direct beneficiary of Irene's expertise. She joined us for dinner and gave us a taste of this venerable art form.
Irene's name, "Peace" in Greek, occasioned a dedication from the hand of our poet in residence: David's extemporaneous demonstration of hendecasyllables, with input from the peanut gallery:
AD PACEM DEAM
Kim Jong-Un preme teste pax olivam
TO THE GODDESS, PEACE
Oh Peace, with Kim Jong Un as witness, press the olive!
The Team
Antonella and Barbara, the morning staff;
Salvo, chef and guardian angel;
Raffaelle, general factotum, most helpful man alive;
Enzo arbiter elegantiae, evening shift;
Francesco, executive chef
Pizza Night
Returning late from Erice we found a surprise waiting for us. The dottoressa had brought in a local pizzaiolo to show us the ropes of wood-fired pizza making. Each received a whole pie for dinner: delectable!